No duty is more urgent than that of returning thanks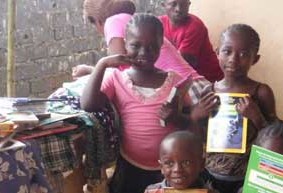 "No duty is more urgent than that of returning thanks."
Through MOWCF, your donations have helped meet these orphans' educational and other basic survival needs. 2016 was one of the successful years for the kids because there were no major illnesses, and all the kids did extremely well in the last academic year. Serena Gaye got double promotion from the 2nd grade to 4th grade, while Joshua K. Sohn, Denise M. Sayon and Blessing Borkay made a successful pass K1 to K2, Nursery to K1, and 5th grade to 6th grade respectively. Words are not sufficient to describe how appreciative the volunteers and orphans at MOWCF are to our supporters for your continuous support to the growth and progress of the children.
We also want to extend a very big thank you because we were able to purchase tablets for the kids. This, of course, provides entertainment, but more importantly, enhances learning and expands their knowledge of technology.
In addition to the academic needs being met, basic needs continue to be provided for these children through the generous donations of MOWCF supporters. These four children have a roof over their head, food, clothing, and medical care that many in Liberia do not have. Being able to provide these basic needs that every human being deserves allows them to flourish in all areas of their lives.
The four kids are very excited about the improvement in their lives and would like to extend a personal thank you to all our supporters. Without your support these children's hope in life to succeed would have been bleak.
It is our dream that we go beyond meeting the needs of just four orphans but to expand and be able to help many other needy children and widows in Liberia. Through your donations, there is hope to do so. Please continue to be a blessing to MOWCF. Your donations provide a life for children and widows that would otherwise be impossible.
Posted by adamchronister@gmail.com on Monday, February 6th, 2017 @ 4:38AM
Categories: News