Blessing's Story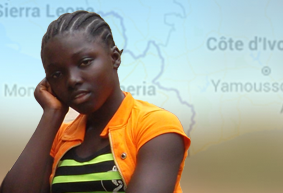 "I do not know my father," Blessing began with tears in her eyes as she told us her story. Sadly, Blessing's mother was 3 months pregnant with Blessing when her father disowned the pregnancy and disappeared. Since then, the child has not known her biological father. She has lived with this from birth.
Things became worse for Blessing in 2010 when her mother died during child birth at the John F. Kennedy Memorial Hospital. Left with no one to care for her, one of her mother's sisters took her in. She now lives with her Aunt Josephine, who does not have any job related skill. She does not have any source of income, yet has nine children, including Blessing.
Blessing is often sent home from school for school fees and other school materials which the aunt cannot afford, as her major concern is for the children to eat at least once every day. The child goes without good medical care. According to the aunt, Blessing just sits in sorrow some days.
The child was recently identified by our staff and considered for acceptance into the MOWCF orphanage for assistance.
By supporting this ministry you are helping to take care of both the physical as well as spiritual needs of children like Blessing. Unlike many non profits MOWCF does not have paid staff. All donations go directly to the welfare and betterment of Liberian children and widows.
Children in Liberia live off of less then $2 a day. By contributing to this goal you are ensuring that Blessing gets the substance she need to sustain her health.
Posted by adamchronister@gmail.com on Friday, September 11th, 2015 @ 5:16PM
Categories: Orphans