Joshua's Story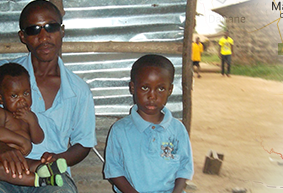 Joshua is a little boy whose both parents are blind. When we visited his parent, his father said, "I have not seen Joshua since he was born and don't even know how he looks likewise his other siblings." Joshua's father was blinded from the last war that took place. He said they were forced to go on the frontlines to fight war, and in the process some bullet particles got in his eyes, which led to his blindness.
Due to his parents' disability, they find it difficult to meet him and his siblings' basic needs. Joshua accompanied his parents every day to beg in the street in order to survive. Their single-room, zinc round house is in a bad shape. During rainy season, they can have sleepless nights because every part of the house if leaking. Water comes from both ends from the roof and from under the ground because the house is on water way. Joshua was recently identified by our staff and considered to receive assistance from the MOWCF orphanage.
By supporting this ministry you are helping to take care of both the physical as well as spiritual needs of children like Blessing. Unlike many non profits MOWCF does not have paid staff. All donations go directly to the welfare and betterment of Liberian children and widows.
Children in Liberia live off of less then $2 a day. By contributing to this goal you are ensuring that Blessing gets the substance she need to sustain her health.
Posted by adamchronister@gmail.com on Saturday, April 11th, 2015 @ 3:50PM
Categories: Orphans