Providing Quality Education for the Kids in Liberia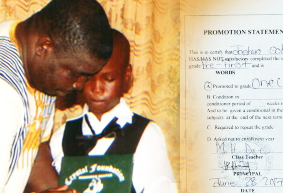 In 2013, President of Liberia, Ellen Johnson Sirleaf, said their educational system is "a mess ." All 25,000 public high school students failed the University of Liberia entrance exams. A situation that many attributed to the effects of the war and the schools (primary and secondary) that prepared those students. The system is still on the path of recovery.
The country has public and private schools run by religious institutions and private individuals. The public schools are overpopulated, have poor infrastructure and unqualified teachers in some areas. As a result, parents who have the means prefer sending their children to the private schools, thereby leaving the less fortunate with the choice of not sending their children to school or going to the crowded, sub-par schools. Even at these schools, the poor parents find it difficult to buy school materials and meet other financial commitments required. Because of this,  children in Liberia often do not end the academic year. Blessing, Serena, Joshua, and Denise were in similar situation when MOWCF intervened.
DONATE HERE: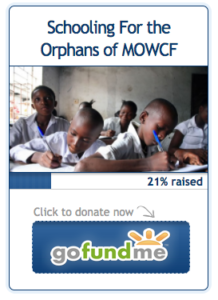 Today the kids are happily enrolled in a private school that provides quality education, and they have been promoted to the next level. Two of the kids graduated to the next level of schooling, Joshua Sohn from pre-first to first grade and Blessing Borkay from sixth grade to seventh, while Serena Gaye got promoted to fifth grade and Denise Sayon from K-1 to pre-first.
On behalf of the staff and beneficiaries of MOWCF,  we want to extend our heartfelt thanks and appreciation to you, our donors, and supporters for your continuous support in prayers and finance. This makes providing an education for our kids possible, and affords them the hope of a future.
These kids have benefited greatly from the donations received over the years. When we look at how far our four children have come physically, emotionally, academically, and spiritually in just a few years with your support, we are humbled by what The Lord is doing.
It is our fervent and sincere prayers that God continues to bless your handy work as we all work towards reaching out to the less fortunate in Liberia. We are very confident that with your continuous support MOWCF can impact many lives in and out of Liberia.
We prayerfully ask that you consider making a donation to help these children continue their studies. Few other opportunities make as long lasting of an impact as this.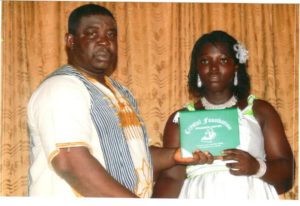 | | | | |
| --- | --- | --- | --- |
| DESCRIPTION | QTY | UNIT PRICE | TOTAL |
| School fees and requirements( Registration, ID card, Badge, First Aid, Handbook, Breakages, Uniforms, Gala day, Tuitions and study class) for Joshua K. Sohn and Denise M. Sayon | 2 | $305 |              610.00 |
| School fees and requirements( Registration, ID card, Badge, First Aid, Handbook, Breakages, Uniforms, Gala day, Tuitions and study class) For Blessing and Serena | 2 | $258 |              516.00 |
| Copy books (12 Dozens) | 12 | $8.00 | 96.00 |
| Pen (4 dozens) | 4 | $3.00 |                12.00 |
| Pencil (8 Dozens) | 8 |              1.00 |                  8.00 |
| Ruler (8packs | 8 |              1.00 |                  8.00 |
| Sharpener(4 dozens) | 2 | $5.00 |                10.00 |
| Eraser (4 Dozens) | 8 | $6.00 |                48.00 |
| Color Pencil (8 Dozens) | 8 | $1.00 |                  8.00 |
| Whiteboard Marker (1 dozen ) | 1 | $5.00 |                  5.00 |
| Text Books (Blessing and Serena) | 16 | $5.00 | 80.00 |
| Text Books (Joshua and Denise | 8 | $5.00 |                40.00 |
| Black shoes | 4 | $15.00 |                60.00 |
Total $1,493
Posted by adamchronister@gmail.com on Tuesday, August 29th, 2017 @ 5:12AM
Categories: Orphans